Sublimation printing is the most advanced method of printing for materials which contains polyester (quick dry material).
Pros:
Never fade, crack or peel
Long lasting
Bright colors and can achieve various shades of color
Cons:
Unable to print metallic shades
Only suitable for materials which contain polyester (min of 40%)
More costly as compared to traditional forms of printing
This is the most primitive form of printing for t-shirts, it uses a screen where you flash your design on it. There are various setup fees for the board.
Pros:
Inexpensive
Good quality of print
Cons:
Must be in bulk quantity
Color limitation
Commonly used for low quantity printing or for team jerseys. You will need this printing type of personalized names and numbers due to it being able to cut out personalized names easily.
Pros:
Inexpensive
Able to print out vivid colors
Able to print even 1 piece
Cons:
May start peeling after 50 washes (1 year of wear and tear)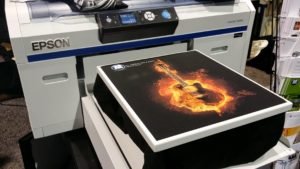 Direct spraying of ink onto shirt. It will be fairly costly if you are printing on dark colored shirts as you will require one coat of white ink, then the design details will also be printed twice to ensure the colors are vivid. As there are so many layers on the shirt, you may feel that the print is thick. You may want to consider using heat transfer instead as it will have the same effect.
Pros:
Very vivid colors
Low quantity printing
Cons:
Costly
Not as long lasting as projected
Only printed on cotton material
Many vendors are using brands that are made in China. The quality of embroidery comes out quite messy and with many holes in between as the machine is unable to output good quality embroidery design. Go for brands from Japan like Barudan or Tajima if you are able to notice the brand of the machine.
Pros:
Will be VERY long lasting
Provide a smart look, a plus point for corporate event shirts
Cons:
Costly
Limitations of color for threads