How to Order Shirts at Lower Costs ?
For sure, you will want to ask, how do we get a tshirt printed at maybe $5.00nett a piece. How do we get such a price you ask.
There is a simple answer, please keep your designs as simple as possible. Try to keep the design value for money. (e.g keeping the design in A4 size but in 1 color) Thus, we are able to use silkscreen printing but using only 1 board. 1 board will only incur a setup fee of around $20 to 30. If you are printing 100 shirts, it will cost around less than $1 per printing per shirt. Coupled with the shirt cost, the printed shirt will cost $5 only !
Compare the following samples, one is a simple design within A4 and the other one with many prints all over. The simple design will of course be much cheaper.
Do you feel confident already ? Do head over to the following to start selecting for your order.
How to Order my Personalized Designed Shirts ?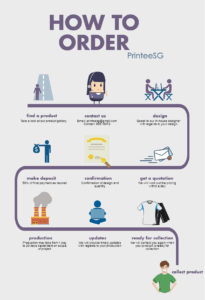 Contact our friendly sales operator via email at printeesg@gmail.com or via 90016072 / 9171912
More information is on CONTACT US page
Feel free to contact us to get a free quotation, with no strings attached.
#custom-jersey #custom-shirts #singap
Sponsorship for Events
We will be glad to have certain forms of sponsorship for apparels for youth in Singapore. Do contact us with regards to your event proposal or even better a long term sponsorship deal with Printeesg. We are actively looking to sponsor team events which fit our corporate guidelines.
Currently we have sponsored over 10 events and 5 youth teams for various apparels and cash value sponsorship.
More information
Other Useful Information