Introduction to Tshirt Printing
Be it for your class, CCA, or company event, making matching t-shirts is a great way to show your bondedness. Same goes for couple tees – there's nothing better than an exclusive "uniform" for just the both of you to show everyone that you're tight. Whatever the reason, here's a compilation of online stores that does tshirt printing in Singapore at decent prices.
Most of these stores offer different methods of printing, but screen printing is the cheapest, so the price quotes in this article are based on that. Almost all of them require a design before giving a quote too, so to make things easier, we used the above templates as references, and kept class tee quantities as 40.
List of Tshirt Printing Companies in Singapore
1. Meowprint
Meowprint offers printing on the widest range of mediums – including tees, outerwear, bottoms, accessories, and even workwear. Class tees are $7.22/pc, but that pricing can go down to about $5.00/pc if you're thinking school camps or large events. They also have instant price quotes, so you can skip the hassle of the back-and-forth emails to finalise your shirt prices and quantities.
Address: 8@Tradehub21 – 8 Boon Lay Way, #07-15, Singapore 609964
Opening hours: Mon – Fri: 9AM – 6PM | Closed on Sat, Sun & Public holidays
Telephone: 9177 8218
Website
2. Printeesg
Printeesg are tshirt printing experts, offers great variety of printing, specialising in custom made apparels like jerseys, windbreakers and singlets. Class tees are ranging from $7 to $10 per piece, prices can go as low as $4.00 per piece if you are thinking around 300pieces. They have instant price quotes via Whatsapp, so you can get your items by the end of the day if you request.
Address: Kapo Factory Building – 80 Playfair Road, Block A #06-07, Singapore 367998
Opening hours: Mon – Fri: 10AM – 7PM | Sat : 10AM – 3PM | Closed on Sun & Public holidays
Telephone: 9001 6072 | 9171 1912
Website
3. Lovely Pears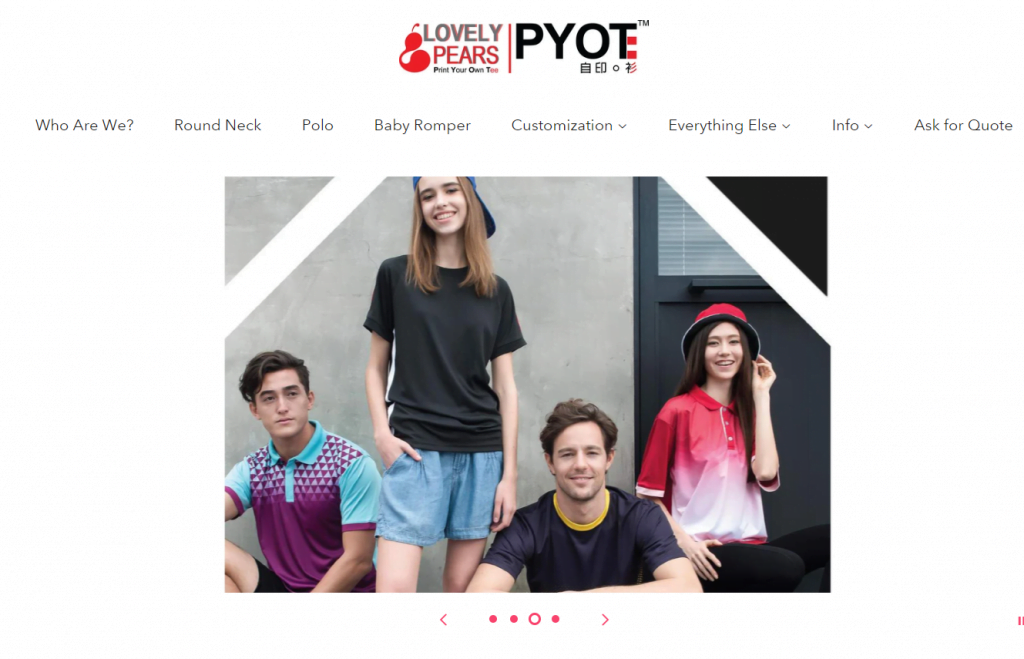 Variety of shirts available, but mostly limited to tshirts, polo tshirt and singlets. They offer DTG printing as well which is quite rare and expensive in the market. Great after service provided from their sales operator. Prices range from $10.00 onwards.
Address: 140 Paya Lebar Road, AZ@Paya Lebar, #01-06, Singapore 409015
Opening hours: Mon – Fri: 9:30AM – 7:30PM | Sat: By Appointment Only
Telephone: 6570 8880
Website
4. Butter Prints
Besides printed t-shirts (from $5.00), Butter Prints also sells varsity jackets and hoodies – great for CCA groups who wants something different from the standard.
For small quantity orders, digital printing cost about $25 per shirt, kind of expensive but yeah, whatever floats your boat.
Address: 59 Ubi Avenue 1, Bizlink Centre, #05-14, Singapore 408938
Opening hours: Mon – Fri: 9AM-5PM
Telephone: 9656 7157
Website
5. EL Print Pte Ltd
EL Print has an online design-it-yourself portal with high-res digital mockups, so you can see how your design will look like before confirming your order. From class tees ($9 each) to vinyl-printed couple shirts ($45-48), they've also got FBT shorts and sweatpants that you can print on too.
Address: 15 Lorong 8 Toa Payoh, Braddell Tech, #07-08, Singapore 319262
Opening hours: Mon – Fri: 9AM – 6PM, Lunch hour: 1PM – 2PM
Telephone: 6100 5225
Website
6. All other ulu vendors you see on Carousell & Facebook that offers Tshirt Printing
Some of these are home based businesses, thus they be sub vendors for the bigger companies listed above. It may be quite bad in quality for the prints and sizing may have problems as they do not have a shop front.
Some vendors may disappear after you have paid the balance for the items, throwing to you slipshod work and disappear when the sizes do not fit or the prints are bad.

The above information are purely based on previous experiences with Carousell vendors and does not imply to all Carousell users.